Laurent Dick – Owner & Lead Guide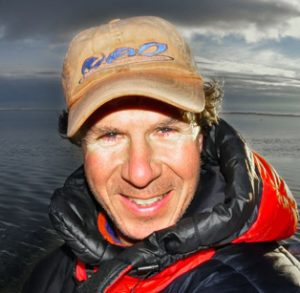 I grew up in Switzerland with a camera in one hand and an ice axe in the other. I've lived in Alaska for the last 25 years and I've found my home. I've spent those years guiding, exploring, taking pictures of beauty sweeping toward the far horizon and introducing people to an Alaska they won't experience with anyone else.
My work experience as a wilderness and mountain guide spans the entire state, from the Arctic National Wildlife Refuge to Prince William Sound to Denali (Mount McKinley). I am the author of three photo books (Climb Denali, Yukon Quest, and Antarctica) and co-author of two photo books. As a public speaker, I have spoken at corporate events and my multimedia productions have been seen by thousands of visitors to Alaska. I am also leading a yacht-based photo expedition to Antarctica every year.
I live in Anchorage in Southcentral Alaska, with my wife, Greta. We have one son, Florian, who is 17. I am fluent in English, French, German and Swiss-German.
You'll meet some extraordinary people on my tours and will get an idea of how life can be lived up here. I'll show you the beauty I've found here, and if you want some tips on photography along the way, I love to help.
My life has been full of adventure, and you don't get to have this many years of adventure without balancing it with real care. You will travel with me in safety and confidence. I'm looking forward to meeting you.
"What I most appreciated of your guiding was how you let each of us "discover" the Iditarod in our own way, but without any of the usual burdens of researching and planning. You provided that perfect blend of freedom and support for each member of the group. From your website, I knew that we would be traveling with a world-class photo journalist. I now know that you are a world-class guide, too. We were so fortunate to have found you!" – Susan Yamada, Hawaii –