Frequently Asked Questions
Group size – How big are your groups?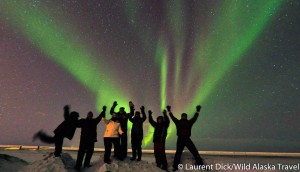 A fundamental element of an outstanding tour is a small group. It may cost a little more, but considering the hugely superior experience, we know it's well worth it. Our small groups (6 guest maximum except up to 11 guests on our Iditarod tours) are among the smallest you will find in the travel industry. As we keep our groups small, you can be comforted by the fact that you will have plenty of personal space on your tour, as our tour itineraries provide a balanced social experience that includes individual time to explore on your own. We pride ourselves to provide the highest level of personal service. With our small groups, you're assured of plenty of personalized attention when you need it.
Guests – What will my fellow travelers be like?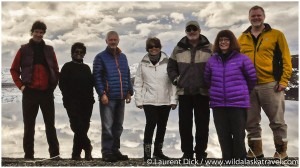 As far as our typical guests go, they come from around the world and from all walks of life and are all ages, ranging from their early 20's to 70+ years old. Most guests are from North America, however we regularly have guests from Australia, Europe, South America and Asia (Singapore and Malaysia). We even have Alaskans who regularly join our tours! Some of our guests have traveled to Alaska before, for others it's their first journey. Their motivations may all be somewhat different, except that they all are passionate travelers who share a keen interest in experiencing Alaska in a unique way and off the beaten path, and above all want to have a great time. If you that fit this description, then rest assured you'll fit right in!
Solo Travelers – Can I sign up for your tours if I travel alone?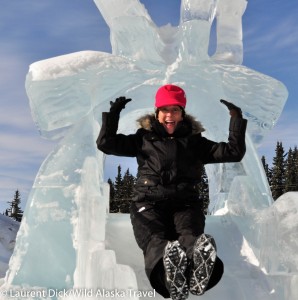 While we try to accommodate the request for single occupancy, on most of our tours we cannot offer a single supplement, because accommodations especially in some of the more remote parts of Alaska are extremely tight. However, if you are traveling alone and don't mind to share accommodations with a roommate of the same gender, please let us know. We will be happy to match you up! We won't put you in a room with someone of the opposite sex you don't know. Don't hesitate to contact us if you have more specific questions.
Children – Can kids sign up for your tours?
We invite the whole family to join our adventures. We do not have any strict age requirements on most of our trips. If you are unsure if any of our tours are age-appropriate, we invite you to call us to see if the abilities of your kids will match our adventure.
Physical requirements – Do I have to be in good shape to join one of your tours?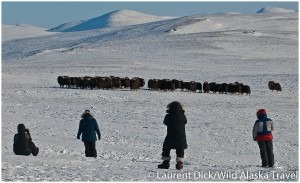 The activities on our Alaska adventures are diverse, and involve among others short hikes, wildlife watching from a small boat, dog mushing, and riding a snow machine. We expect you to be physically fit without any mobility issues and equally important we expect you to be flexible with possible itinerary changes due to weather. Keep in mind that good general health will go a long way to increasing your enjoyment of our tours. If you unsure about the physical requirements for a particular trip, please call us and we would be happy to talk with you and determine if a trip matches your abilities.
Gear – What shoud I pack?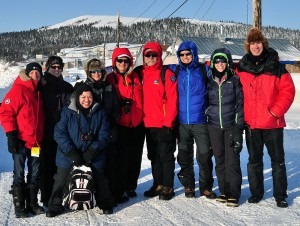 The general rule for Alaska is casual, comfortable clothing that can be worn in layers. The first layer should be something thin and next to the skin (try to avoid cotton). The second layer adds warmth and allows you the option of removing if it gets warmer (mostly fleece or similar). The third layer should protect you against rain and wind if necessary. Our preferred system, made up of several layers: Polypropylene top and bottom (base layer), then fleece top and bottom (first layer), then windproof top and bottom (i.e Goretex jacket & pants). In addition, a down parka as an insulating layer for our March and April tours (Iditarod & Northern Lights) is great. Warm footwear such as insulated boots (Sorels or Mucks) or insulated hiking shoes is important. A warm hat, scarf and gloves are of course a given. You will find a duffel bag or soft-sided luggage is the most practical for Alaskan style of traveling, particularly when in small planes and boats. Restricting yourself to one piece of luggage is recommended. We provide a list of clothing suggestions for all our tours
Photography – What camera should I bring? Will you help me capture those golden moments?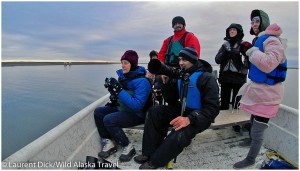 While none of the tours are geared specifically to photographers, we will be happy to share our vision and to give you tips on how to increase your photography skills. We will give as much or as little instruction as you desire. You will definitely get the most out of your trip with a digital SLR style camera, but you certainly don't need the latest and greatest model on the market. When photographing wildlife, a decent telephoto lens is a must, and for shooting landscapes a good wide-angle lens is desirable. A tripod is a must when photographing the northern lights. We take you to some of our favorite places in Alaska and love to help you capture those golden moments! We usually have a mix of professional, amateur or beginning photographers join our tours, however because we focus as much on the nature and wildlife at our destination if you just want to enjoy the outdoors and an amazing tour will feel right at home.
Food – What will our meals be like?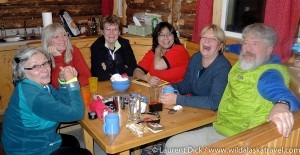 100% of your meals are covered on your tour. On some tours, you will eat out in restaurants, while on other tours we will home cook most of the meals for you. A typical breakfast includes eggs, bacon, toast, hot cereal, yogurt and fruit. For lunch, we often make sandwiches and we provide snacks to eat throughout the day. A typical dinner includes either Wild Alaska salmon, pizza or pasta. In restaurants, you can pick whatever item you want off of the menu. In order for us to make a meal plan, please let us know in advance if you have a special diet or food allergy. We will do our very best to accommodate your needs. We are used to cater to vegetarian or gluten-free diets, among others. During our home cooked dinners, we provide wine and beer, but otherwise alcoholic beverages are not included in the tour price.
Accommodations – What will our accommodations be like?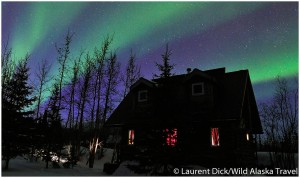 All the places you stay are clean and comfortable. We prefer to stay in local B&B's whenever possible, however we also do use hotels at the beginning and end of some of our tours. On our Alaska Polar Bear & Northern Lights Tour and on our Alaska Northern Lights Tour we can only offer shared bathrooms in the accommodations up north. The unique, authentic, off-the-beaten path locations usually make up for the lack of a private bathroom, however if you require luxury accommodations with a hair dryer and a bathrobe in your room, our tours are definitely not for you!
Price – What is included in our tour package? What is not included?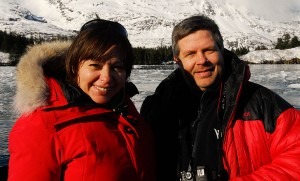 All of our tours are all inclusive, meaning that all your expenses (accommodations, meals, transportation) from the time of your arrival to your time of departure are covered, except for your trip/medical insurance, personal expenses during the tour, and alcoholic beverages).
Changes in Itinerary
In Alaska, travel plans and especially flights can change in the blink of an eye, mostly due to poor aviation weather. You must understand and be willing to accept that weather can affect our planned itinerary. Weather delays and/or cancellations account for about one in four scheduled flights. When wind, rain, snow or fog delays flights, there is nothing to do except sit back and enjoy your stay. If you can't handle such delays, our tours are not for you. You should also plan to have some "buffer" days in your itinerary. We will not be responsible for any missed flights or connections. For this reason, we strongly recommend that you purchase travel insurance.
Reservations – How do I book a tour?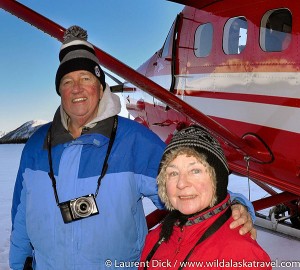 To make a reservation, please take the following steps:
1. Please fill out the Online Reservation Form on the website (under the 'Reservations' tab)
2. A deposit of US$500 per person is due when you make your reservation to hold your spot. Under the 'Reservations' tab you will see the field where it says 'Deposit 1 $500′. You may also choose 'Deposit 2 $1,000 if you want to make a reservation for 2 people at the same time. Click on the 'Buy now' tab and it take you to the Paypal screen. You can use your credit card and you don't need to have a Paypal account to use Paypal.
3. Upon receipt of your deposit and reservation form, we will send you via Paypal an invoice, which also acts as a booking confirmation.
4. Your balance will be due 180 days prior to the tour departure.
With Paypal, you can use any major credit card for both the deposit and balance payment. Please let me know if you have any question/issues regarding the deposit and/or balance payments.
Cancellations – How do I cancel a trip?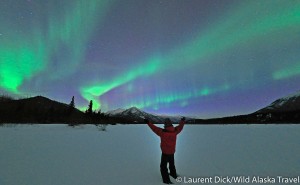 We must receive written notice of your cancellation, at which time the following are nonrefundable:
180 days or more before departure: 100% of deposit
179 to 121 days before departure: 100 % of deposit + 50% of balance
120 or fewer days before departure: 100% of trip fee
Trip/medical insurance – Do I really need to buy it?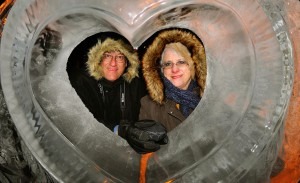 Because our trips are all-inclusive and completely pre-paid, we highly recommend that you consider purchasing trip insurance. Trip insurance covers unexpected circumstances. Many trip insurance policies include coverage for medical expenses, emergency evacuation, trip interruption and protection for baggage and personal possessions. Expect the unexpected! We suggest you check out https://www.Squaremouth.com for a quote. This site helps you compare policies side-by-side, so you can decide which policy fits your needs the best. The type of travel/medical insurance is pretty much up to you and dependent if you have other (existing) health/travel insurance policies (maybe even through your credit card). We do not sell trip insurance directly.