March 10 -18, 2024
Tour Dates
2024 Iditarod Tour Package: Iditarod Finish & Northern Lights Tour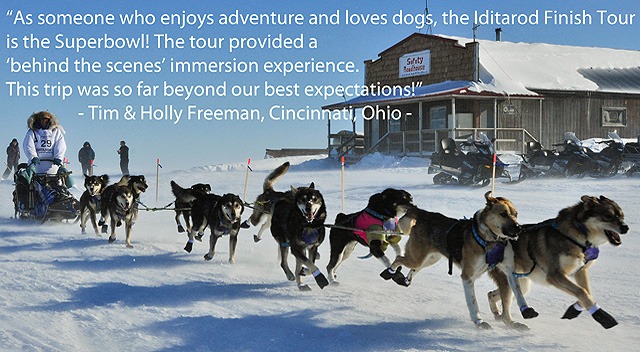 Our 2024 Iditarod Tour package, the Iditarod Finish & Northern Lights Tour in Nome, is the most comprehensive guided Iditarod Tour Package to experience the finish of Alaska's #1 winter event, the epic 1,000-mile Iditarod Sled Trail Sled Dog Race and to see the northern lights.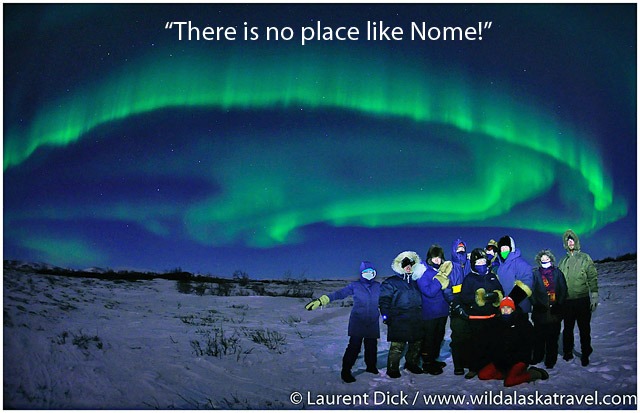 Our 2024 Iditarod tour package allows you to fully immerse yourself in the most authentic and unique Alaskan winter experiences: Witness the finish of the Iditarod; fly to the White Mountain Iditarod checkpoint to follow the race action; drive a snowmobile to the last Iditarod checkpoint in Safety; attend the Iditarod Finisher's banquet; go dog mushing with your own dog team; witness the majestic northern lights as they dance in the winter sky; play golf on the frozen Bering Sea; take a city tour of Nome;  taste local foods such as crab, moose, reindeer and salmon; view and photograph muskoxen up close; explore Nome's arts and craft fair; and simply enjoy experiencing the unique city of Nome and its scenic surroundings along the Bering Sea coast. There simply is 'No place like Nome'!
This is a very active tour, and we expect our guests to be in good physical condition. Nome is a windy place, and temperatures of 20 below with windchill during Iditarod week are not uncommon. So this is not going to be a Hawaiian vacation! But if you are looking for an authentic Alaskan winter experience, this tour has it all. This tour is our most popular tour and books early, so please don't wait until the last minute to book it.
'I cannot put into words how awesome my trip to Nome was. Each day was an action-packed adventure, and I would go back and do it all over again every year if I could. Thank you for the best trip of my life.'

Judy Holmes, Iowa

'Going to Nome to see the finish of the Iditarod with Wild Alaska Travel was the best time of my life.'

 Dawn Olweck-Bourgignon, New York
You may also want to consider combining this tour with our 2024 Iditarod Start Tour in Anchorage, February 28 – March 5, 2024, and the Northern Lights Add-on in Fairbanks, March 5 – 8, 2024.
Experience and photograph the finish of the 2024 Iditarod Sled Dog Race in Nome
Fly to and visit a Iditarod checkpoint
Ride a snowmobile to the Iditarod checkpoint in Safety
Learn how to become a musher and drive your own dog sled team
Attend the 2024 Iditarod Finisher's banquet
Track down muskoxen by snowmobile

Take a city tour

Taste local foods such as crab, moose, reindeer and salmon

Play golf on the frozen Bering Sea
See and photograph the northern lights (weather permitting)
Stay in Nome's best accommodations
Experience an authentic Alaska town and learn why 'There's no place like Nome!'
And, of course, meet your favorite Iditarod mushers and their dogs!
9 days (8 nights) of lodging in Nome's best accommodations
All meals (breakfast, lunch & dinner)
All transportation during the tour
All activities (dog mushing experience, snowmobile excursions to Safety and to view muskoxen, flight to Elim Iditarod checkpoint)
Entry fees for Iditarod Finish Banquet and Bering Sea Invitational Golf Tournament
City tour of Nome
Day 1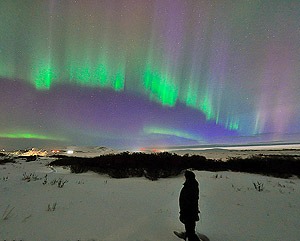 Welcome to Nome! Situated at the tip of Seward Peninsula and overlooking the Bering Sea, Nome may well be Alaska's most exiting winter destination. This unique Alaskan town is rich in colorful Gold Rush history, and is the finish of the annual 1,049-mile Iditarod Sled Dog Race. You will arrive on a scheduled Alaska Airlines flight from Anchorage. You will be picked up at the airport, transfer to your accommodations.
You will have an orientation of the week ahead during lunch, and in the afternoon you will have a chance to familiarize yourself with Nome, visit the Iditarod headquarters and go for a walk on the frozen Bering Sea.
Every night during your stay in Nome, you will head out of town to photograph the Northern Lights, weather permitting. Just watching the aurora borealis is an amazing sight. Imagine yourself standing there, mesmerized by the movement of the lights through the northern sky.
Day 2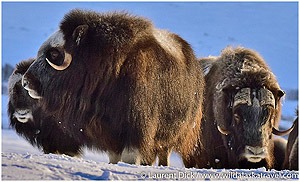 This morning, a local guide will take you on a city tour.  Perched on the coast of the Bering Sea just below the Arctic Circle, this small town (population 3,659) has a rich history. Nome has been home to the Inupiat people for thousands of years. Their ancestors migrated across the Beringia land bridge from from Asia to North America over 10,000 years ago. In 1898, gold was discovered at Anvil Creek, triggering a massive gold rush. Today, gold miners continue to search for gold, using floating dredges in the shallow waters near town.
In the afternoon, you will ride a snowmobile into the backcountry to see and photograph muskoxen and possibly reindeer. The original muskoxen in Alaska died out in the 1800s, but a program to reestablish muskoxen on the Seward Peninsula has so far been extremely successful. The latest count of muskoxen on the Seward Peninsula shows their numbers approaching 3,000. We will also try to spot some of the 25,000 reindeer that roam the Seward Peninsula.
Day 3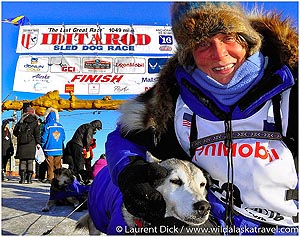 Today's schedule will revolve around the Finish of the Iditarod Trail Sled Dog Race. You will head for Front Street to witness the Iditarod Finish & crowning of the 2020 Iditarod champion. Watch as the excitement builds and the city of Nome prepares to greet the musher who is the first to cross the finish line, after mushing across 1000 miles of North America's wildest terrain in conditions best described as extreme.
Day 4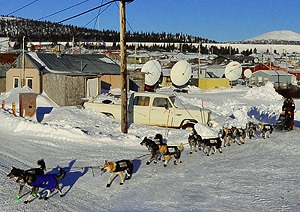 Today, you will fly with Bering Air to the Iditarod checkpoint of Elim. You will fly along the coastline of Norton Sound, and have opportunities to see spectacular sea ice formations. You will spend most of the day at the Elim checkpoint, observing mushers and their teams as they arrive, rest and leave the checkpoint. In addition, you will get a feel for what it means to live in a remote village in Alaska. Experiencing life in a small Alaska Native village may offer you one of the most memorable and eye-opening travel experiences you'll have in your life. One reason a visit is so special is that these Alaska villages see very few visitors. In fact, if they see a few organized tours each year, it's a lot. And the Inpuiat Eskimos of this region are among the state's most welcoming native peoples. You will return in the evening with Bering Air back to Nome
Day 5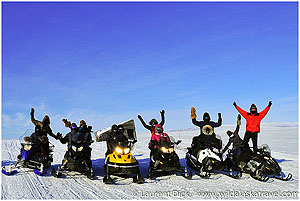 Today you will ride by snowmobile to Safety, the last checkpoint along the Iditarod Trail. You will drive your snowmobile 22 miles along the Iditarod Trail and get a feel for what the trail conditions faced for almost 1,000 miles. You will be able to have lunch and a warm or cold drink at the bar at Safety Roadhouse. Weather permitting, you will drive further down the trail to the 'Last Train to Nowhere', an abandoned train from the gold rush era that sits on the tundra.
Day 6
In the morning, you will start the day by hiking out on the sea ice to capture the beauty of the frozen Bering Sea and explore some of the stunning ice formations. We will continue to keep an eye on the race action between Safety and Nome, and watch more Iditarod teams arrive under the 'Burled Arch'. You will also have a chance to enjoy some of the unique events of 'Iditarod Week' in Nome.
In the afternoon, you will explore the road system around Nome. You will head out the Teller Road, Kougarok, and Council Roads. What you'll find is some of Alaska's most captivating landscapes—a wilderness that draws you in quickly and holds your attention. Up here, less than 150 miles from the Arctic Circle, there are no trees, so you can see forever. We will look for old gold dredges and wildlife and experience some of the unique scenery around Nome.
Day 7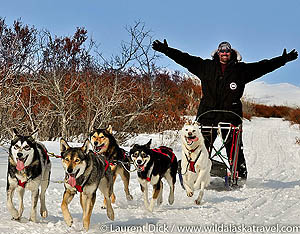 In the morning, you will play golf at the famous Bering Sea Ice Golf Classic. Played on a six-hole, par-41 course laid out on the frozen Bering Sea, you will get shotgun shells to use as tees and "snake bite remedies" — small bottles of liquor — to ward off the chill.
In the afternoon, you will have a chance to drive your own team of sled dogs on a beautiful trail across the frozen tundra outside of Nome and feel the thrill of standing on the runners and being pulled by some of the most amazing canine athletes in the world. This experience provides an excellent opportunity to learn more about mushing basics combined with the exhilaration of competing in a race and driving your own team.
Day 8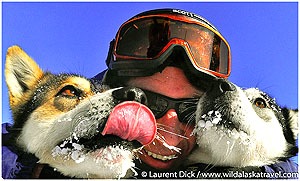 In the morning, you will have a chance to explore Nome on your own, visit with mushers at the dog yard, and do some last minute shopping at the Arts and Craft Fair. We will still keep an eye on mushers arriving under the 'Burled Arch'.
In the afternoon, you will join the festivities of the 2020 Iditarod Finishers and Awards Banquet, which honors numerous mushers for a variety of accomplishments, including those related to speed, sportsmanship, and care for their dogs. It's another great opportunity to get up close and personal with the mushers of "The Last Great Race."
Day 9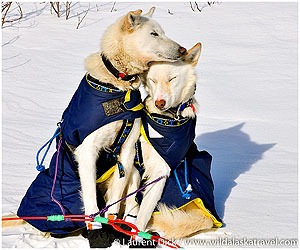 This morning you bid farewell to Nome and 'Iditarod Week'. You return home with a wealth of images and stories and new friendships for your 2020 Iditarod Finish and Northern Lights Tour. And you will have gained a better appreciation why people say 'There's no place like Nome!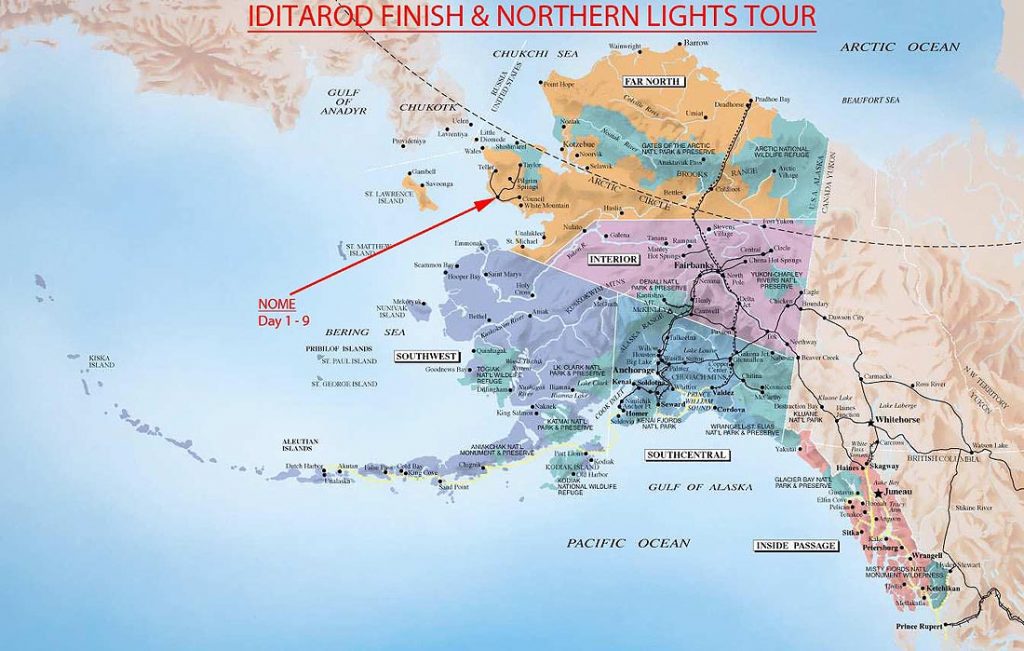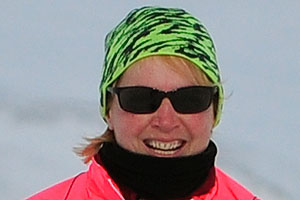 "I enjoyed everything more than words can ever describe. Because of you, I had one of the best experiences I've ever had in my life!"
Sherry Hale, Tennessee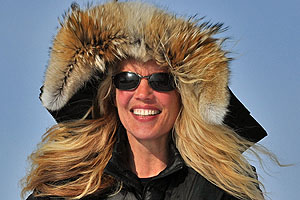 "WOW, wow, wow. It was THE trip of a lifetime, no exaggeration. I could tell from Laurent's video on his website it was going to be fantastic. But I had no idea how great it would really be until we spent the week with him. It's a nonstop adventure, he goes to all lengths to make sure you're experiencing everything there is to experience. It was absolutely incredible. Honestly, we left wanting for nothing when it was over, except maybe to become mushers ourselves. Thank you Laurent for giving us the experience you did – we will definitely be back!!!"
Jodi Woolard, Washington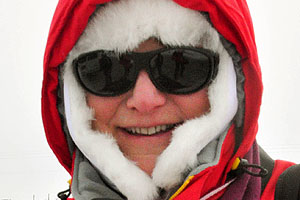 "This is a trip I will never forget. Words can hardly describe it. I've learned so much and have a new appreciation for another corner of our big beautiful world. You made that possible. Thanks for everything! "
Linda Bauer, Wisconsin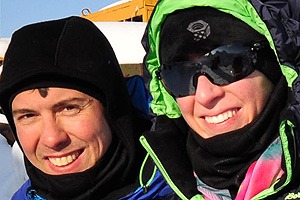 "Thank you so much for an incredible adventure in Nome and for making our first to Alaska so much fun. We loved having the opportunity to explore with you."
Sara & Thomas McElroy, Washington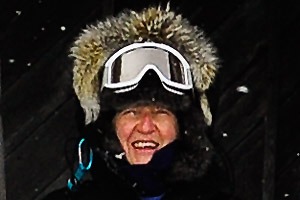 "What an awesome week with so many fun adventures – I can't imagine a better Iditarod trip!"
Diane Beck, Alaska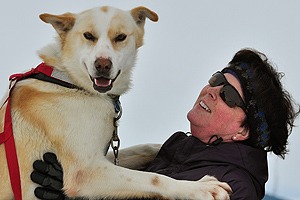 "Thanks for an awesome trip! I enjoyed every minute of it. I learned a lot and experienced a lot of firsts… snow machining, dog mushing, native village life, and standing on the frozen Bering Sea. How great is that?"
Janet Hart, Tennessee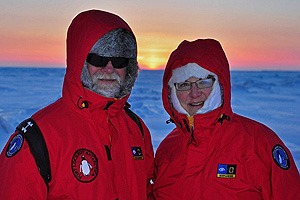 "Thank you for all you did throughout our stay to make it one of our most memorable trips. It was fantastic!"
Bill & Linda Bauer, Wisconsin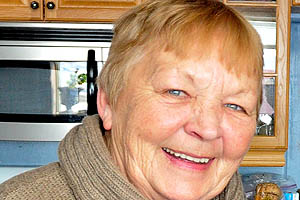 "We had a wonderful time and experienced the real Alaska."
Diane Collins, Australia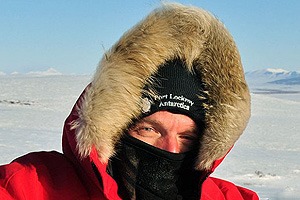 "Thank you so much for the incredible adventure for the Iditarod in Nome! Everything was perfect!"
Geoff Palcher, Maryland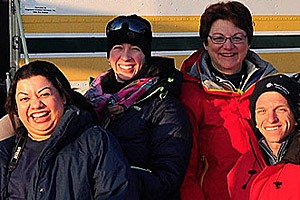 "Thank you for a great week! I had so many new adventures that will stay with me forever!"
Teresa Garza, Texas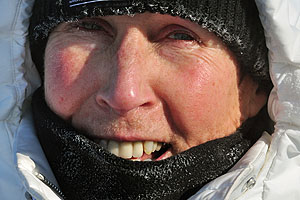 "This adventure (not vacation) was the most thrilling I ever experienced."
Ginger Bourgignon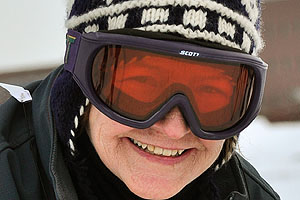 "Visiting Nome with Laurent was one of the best vacations we ever took.""
Kathy Modesitt, South Carolina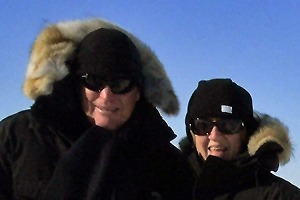 "We had a great time in Nome! It was a really fun. We would definitely book another trip with Wild Alaska Travel."
Bill & Dian Taylor, Australia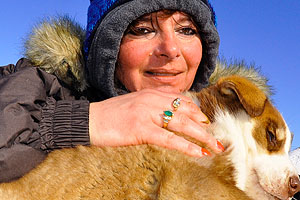 "Going to Nome to see the finish of the Iditarod with Wild Alaska Travel was the best time of my life."
Dawn Olweck-Bourgignon, New York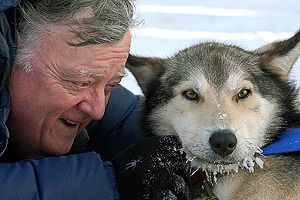 "Laurent, you are an excellent guide. You made all the right decisions to make things happen. I had a fantastic time!"
Larry Feeney, Massachusetts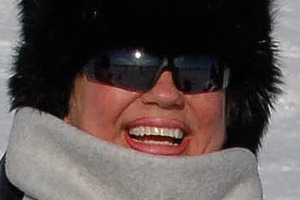 "Where do I begin? The trip to Nome for the Iditarod was so much more than I expected. Riding snow machines to see muskoxen was awesome. Going to the different Iditarod checkpoints and interacting with the mushers was fantastic. The viewing of the northern lights was great. Mushing a dog team was a first for me. Just experiencing the life style in a bush village where everyone was so accepting was priceless!"
Christine Sotack Kotouch, Alaska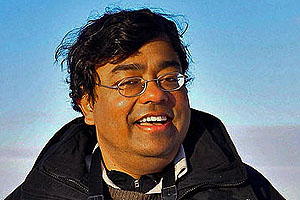 "The Iditarod Finish & Northern Lights Tour was indeed a once in a lifetime experience for me. Laurent is extremely knowledgeable about traveling in remote and off the beaten track places in Alaska. I would recommend anyone interested in getting exposed to true Alaskan wilderness to travel with Wild Alaska Travel and Laurent as a guide. Most of the things one will see or learn through these tours are unique and it is unlikely those will be available through generic Alaskan tours."
Prasun Choudhury, California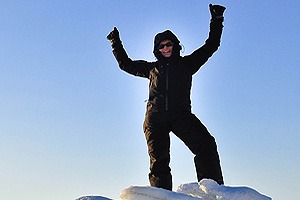 Thank you for a truly wonderful Alaskan experience. My friend and I will be talking about this trip for a long time! You were an awesome host & guide and a terrific cook. I am looking forward to booking another tour with Wild Alaska Travel.
Holly Mantooth, Tennessee
**We only require a $500 deposit per person to hold your space.